Executive, Diplomat, Senior Military, Intelligence,
and Legal Education in both U.S. and Asian Venues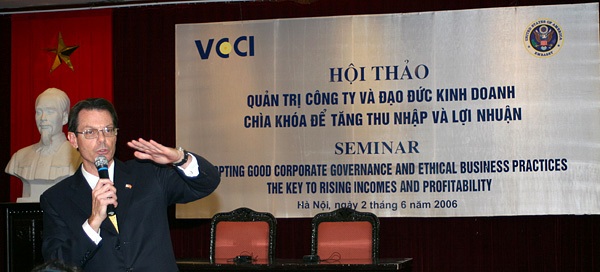 Conducting the pioneering anti-corruption seminar in Hanoi before Vietnamese government officials and SOE executives
Both David Day and Dr. Elizabeth Chan are well-known as international educators on a whole host of topics involving economic & export development, trade matters, business risk analyses, legal issues along with geopolitical and matters of national security. In the latter case, they have conducted briefings as well as full training programs on malign information and media influence (political or hybrid warfare), U.S. Trade Policy, the South China Sea challenge with China, the rise of radical Islam in Southeast Asia and associated counterterrorism trainings, China's Belt & Road Initiative and its Digital Silk Road, the U.S. Indo-Pacific Strategy/the U.S. China Relationship, among others. A number of these briefings have been before Asian Cabinet-level Ministers together with U.S. and Asian military, intelligence, and diplomatic teams. Additionally, they have both addressed a number of these topics in university settings, with thinktanks, and private sector business groups at trainings, conferences, and webinars in both the U.S and in Asia.
These briefings/programs/courses have been or are presented for practicing lawyers, corporate executives, military & national security professionals, government leaders, diplomats, as well as traditional Law & Exec/MBA candidates.
Dr. Elizabeth Chan has her EdD in education from the University of Southern California. She is experienced in the presentation of sophisticated topics before advanced audiences.
Mr. Day, as a former Business School and Law Professor, has also conducted various courses in the U.S. (The Shidler College of Business, The Asia Pacific Center for Security Studies, The William S. Richardson School of Law, & Hawaii Pacific University's College of Business), and Asian venues including, South Korea (Yonsei University School of   Business and Sungkyunkwan University College of Business) and Vietnam (The Hanoi School of Business and The Shidler College of Business).