The Cheonan sinking is an important internal propaganda victory that Pyongyang  created. With the loss of 46 South Korean sailors, Washington and Seoul had no choice. They took the bait.  In so doing, they have predictably teed up the opportunity now for Kim Jong Il to do a little defense of the homeland frenzy. This internal, "Defense of the DPRK" propaganda barrage that now follows the Washington Seoul "spanking" is  extremely valuable to the regime to enhance its stability at this delicate and difficult time of transition. The Dear Leader and his elite, inner circle know full well that, given Kim Jong Il's 2008 stoke, his clock is already in overtime.
While we may never know for sure, the sinking of the Cheonan appears to be part of a deliberate teasing to coax a limited military response out of Seoul and Washington. Given the sophisticated, Kasparov-like chessmaster moves made by Pyongyang (typically outgunning U.S. negotiators concentrating on their checkers board), the Cheonan incident is just one of several moves coming up. Brinksmanship?  Hardly.  Pyongyang knows full well that at worst it faces a limited spanking response like perhaps joint military exercises (for show) or perhaps beefed up security between U.S and ROK forces on the peninsula combined with some rhetoric. Nothing more. Should Seoul engage in even the most benign cross-border military skirmish, Kim Jong Il can  then get away with his slash back and propagandize that as blocking the aggressor from the South, no matter how minimal the "deterrent" response is from Washington and Seoul.
There is another piece to this already complicated puzzle. Kim Jong Il needs a leadership-anointing opportunity to assist his youngest son, the Swiss-educated  Jong-Eun, to obtain some kind of military leadership, albeit limited, in defense of the fatherland. He also needs to cinch down the military power base for Jong-Eun. So how would this work? Whip the country and the KPA into a war frenzy, organize rallies in Pyongyang, put the KPA on alert, cut off trade and communications with the South. Perhaps even give "Brilliant Comrade " (Jong-Eun) a military leadership role in the slash back exercise which can then be internally propagandized and then jerk him back to safety once the slash back has been undertaken. Military anointment completed and the internal film and propaganda machinery can then be unleashed.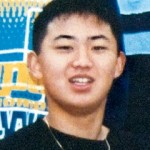 But before "Brilliant Comrade" is placed in the limited line of fire, the Dear Leader needed to test the waters and set up the U.S. an South Korean response. Hence, the Cheonan incident. The timing of this Cheonan chess move is not coincidental—the DPRK Party Congress is set to meet in a few weeks and it is likely that Kim Jong il will confirm then that the baton will pass to Jong-Eun.