Public Speaker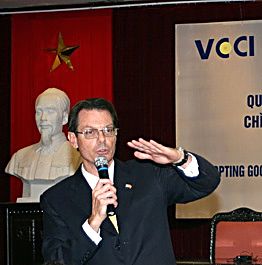 As an accomplished public speaker, Mr. Day is experienced with audiences of all sizes. He is also a media commentator and film/television show host on international business topics in the Asia Pacific Region.
Mr. Day is  a master at creating unusual & engaging presentations. He is also well-versed in creating and delivering the exciting and challenging cross-cultural presentation–even through translators–before non-English speaking audiences.
Representative recent public appearances (both live and televised) have included:
"Philippine Nightmare: Haiyan"
"The Art of Appreciative Inquiry"
"Secrets for Negotiating Life"
"North Korea's Crumbling Facade"
"China's Next Moves After the ADIZ"
"Russia's Asia Energy 'Pivot'"
"The Nuclear Deal with Iran"
"North Korea: Navigating Transition with the 'Mighty & Prosperous Nation' Goal"
"Social Media's Explosion in Asia"
"China takes a Swing at Corruption, Executing one of Its Al Capones "
"Doing Business in the New Vietnam: Tips and Pitfalls"
"Business Tactics & Negotiation Strategies in Working with Americans"
"High Technology Development in North Korea"
"Corruption in Asia: Why it so Prevalent and How can you handle it?"
"The Awakening Tiger: The New Indonesia"
Please contact us for booking availability on these and other topics.