The Art of Appreciative Inquiry
Posted by DavidDay on Oct 28, 2013 in International Business Education, Intl Business in Asia, Our Media | 0 comments
In the international field, we thought it would be important to bring to you a discussion about a new, cutting-edge management philosophy that is in the formative stages of global management trainings coming up in the Asia Pacific Region.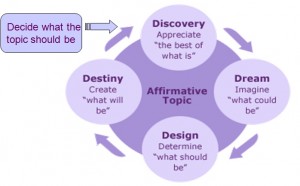 Did you ever notice that typically when we evaluate an idea, a business, or an individual that the standard practice is to look for defects, areas needing improvement, etc.? What if that common approach is less effective than we believe? Should an organization, for instance, focus on its weaknesses an attempt to improve in those areas or concentrate on its strengths?
In this program, "Asia in Review" host David Day engages in an important and fascinating conversation with special guest Mr. Amin Leiman a California/Hawaii-based international management consultant, lecturer and trainer in this new field of The Art of Appreciative Inquiry and its transformative philosophy, tools, and techniques for organizational and individual re-invention.